Machine Shop - in Alaska between Houston & Willow 

Indian Peak Manufacturing LLC ® 21735 W Parks Hwy; Willow, AK 99688 @ ~mile 61.5 | PO BOX 1154 Willow, AK 99688

Interested in learning more about our services?


using CNC Lathes  

and Mills & a screw machine 

Looking for a CNC machine shop in central Alaska? Look no further. We serve all areas from Fairbanks to Anchorage and beyond, including the lower 48. Please call, email, or stop by to check out our machining services. We have worked with numerous  industries such as mining, oil, construction, geological engineering, fishing, robotics, gas filtration, as well as several sporting industries like hunting, fishing, paint ball, and boating.

As a production machine shop, we can help design and develop new products. We manufacture our parts in order to help our customers succeed. 

We can also help with the production of new inventions. Bring your cad drawings by and see what we can do for you.

Have a damaged or broken part and cannot find a replacement? Check with us! We can do custom repair and/or replacement machining for most industries and our neighbors.

​Our goal is to provide timely delivery of quality products in a cost effective manner.

In addition to the above services, we also have our own line of specialty products. We produce match grade hunting bullets made of solid copper or brass. Some sizes are available, and others can be made as a special order. We  manufacture a heavy duty t-bevel constructed from anodized aluminum. Our newest addition is a folding pocket ulu knife. These unique knives come with a skinning blade. Additional  blades that will be coming soon are bone saw, gut hook, and one for filleting. Smaller knives will be available for the kitchen.

…an exact copy of a Chicago screw (internal threads), oval slotted head, that hadn't been made for fifty years! I highly recommend this shop!

Ray Dolchanczyk - Custom Requisition

I just wanted to take a moment to drop you a line to say thanks for both the quality and the deliveries.

Jeff Jennings,

Trigon Technologies Inc.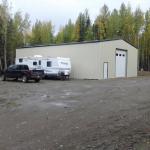 From Wasilla, we are the third driveway on the right after the "Welcome to Willow" sign.

From Willow, we are the second driveway on the left after the turn with the passing lane on the northbound side.

A selection of a few customer parts and the shop cats